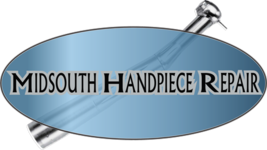 Handpiece Operating Tips

Please check to ensure that your delivery unit air pressure is set to the manufacturers recommended pressure. Most handpiece drive air pressures should not exceed 35 PSI and 42 for coupler style. The air pressure should be measured right at the handpiece connection to the tubing to get the most accurate reading possible. Increasing air pressure will not increase handpiece performance due to increased back pressure, but may damage the turbine.

Never tighten any manual chuck without a bur in place, or you may damage the chuck.

Never operate any handpiece without a bur securely in place.

Do not depress the push button of a handpiece during operation. This may open the chucking mechanism and release the bur.

Do not use the handpiece to retract the patient's cheek or other soft tissue. This could generate excessive heat if the end cap is depressed when turbine is running.

Before operating a handpiece and/or component, always carefully read and follow the manufacturer's instructions.

Adec

AGD

Anthogyr
Aseptico
Banner
Benco
Buffalo
Champion

Chinese (all brands)

Coastal Dynamics
Dabi
Dentalaire
Dentex
Dynasurg
Hall Surgical
HealthCo
Impact Air
Jelenko

Japanese (all brands)
Johnson Promident
Kavo

Kerr

Kinetic
Lares
Lynx
Medidenta
MicroMega
Micromite Micro Motors

Midwest
MK-dent
Morita
MTI
Nakamura
Ney
Nouvag
NSK
Osada Electric-lab

Palisades
Patterson
Precision
RAM Electric-lab

Safco

Scican

Schein
Siemens
Sirona
Star
Stryker
True Speed
W & H

And MORE!!!